Careers
Why become a Financial Representative with Northwestern Mutual of Nebraska?
Support: Being a Financial Representative provides a great deal of professional independence, and yet you're never alone. With training in analysis, financial products, and business skills, you'll learn how to complete financial analyses, build a local client base, and operate a business. Our talented financial professionals and support staff are prepared and eager to collaborate and help you succeed.
Product Quality: In 2011 Northwestern Mutual was named America's Most Admired Company in the Insurance: Life, Health category by Fortune magazine for the 26th time. This honor speaks to the peerless quality of the people, products, and services of Northwestern Mutual. By becoming a Financial Representative you become part of the legacy and an associate of a reputation that opens doors.
Career: At the Network your success is in your own hands. The only limits are your energy, drive, and commitment. Step up and achieve success, and then you really can begin calling your own shots: decide what you want to do and when you want to do it. Why not be in control?
Do you have the characteristics to make it with Northwestern Mutual of Nebraska?
- A history of success
- Entrepreneurial ambitions
- A belief in financial security
- Ability to work within a team
- Attracted to our values
Managing Partner Michael Tews has developed clearly defined organizational values that all Financial Representatives and support teams live by. They are:
- Personal responsibility
- Accountability
- Professionalism
- Growth
- Achievement
- Enjoying the journey
Mike's advice to new Financial Representatives: "The perfect ingredients for a Financial Representative are having a good work ethic, being very coachable and possessing a lot of enthusiasm. If you have these things, can work well with the Northwestern Mutual support infrastructures and are passionate about helping people, you'll do well."
---
Who is Northwestern Mutual?
To learn more about our company, our clients, and our culture, please watch this YouTube video as an introduction into a career as a Northwestern Mutual Financial Representative.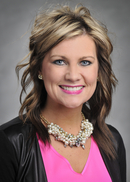 Nicole J Winton
Director of Recruitment and Selection
nicole.winton@nm.com
Office 402-391-6651